Batteryless 2 Toggles Switch Green Power
Model ZLGP18 manufactured by Legrand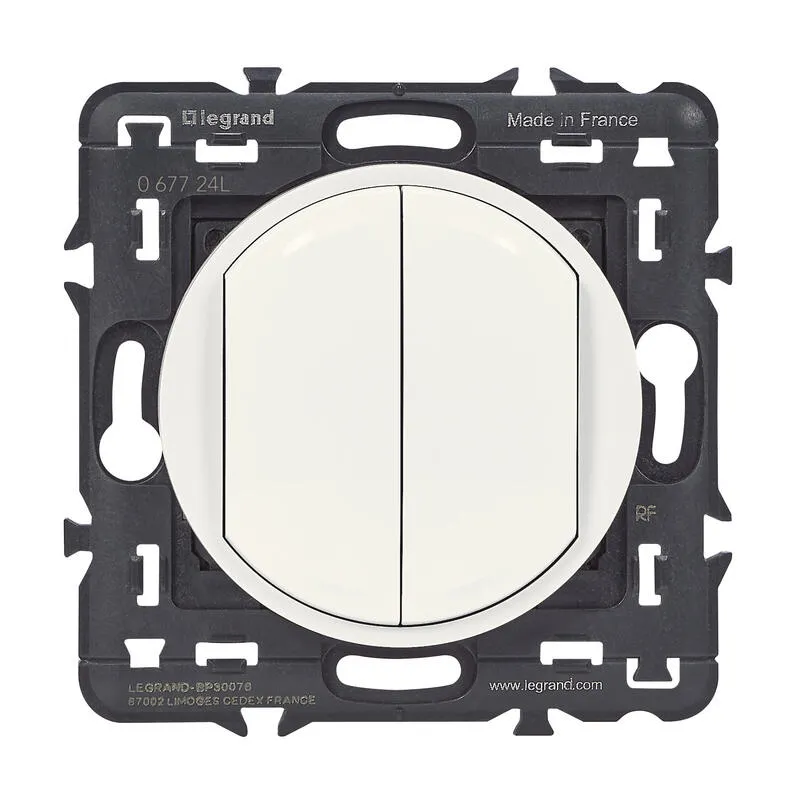 Supports:
green power
action
Product Code:
067724L
067774L
067780L
077054L
574289
574296
574325
574838
600088L
741812L
741842L
741872L
Confirmed working with
If the device is following Zigbee standards it is possible it will work with other gateway solutions, it is just not confirmed as working yet!
Some Legrand devices work only on Zigbee channel 11. With certain devices you need the Legrand Hub to update the firmware to have all features available.
Pairing Instructions
You must have access to the reset button on the device
Make sure that the gateway is not in pairing mode
Press 8s (approximately) on the reset button of the device (until it turns red) to ensure its disconnected from the network
Now switch your gateway to pairing Mode
Press the reset button 8s (approximately) to start the pairing procedure
Make successive clicks on the reset button (every second), until the LED turns green

Detailed pairing instructions and additional information on pipiche38 wiki.
Green Power
Green Power is a feature of Zigbee that allows for energy-harvesting technology to be used directly with the Zigbee stack. Green Power devices do not send standard Zigbee messages. To use a Green Power device in your Zigbee network you need a "translator". Currently only a Philips Hue device can serve as a translator.
Your Zigbee Green Power device has to always be in range of a Philips Hue device to function.